This blog is taken from our whitepaper: Game Play: The next frontier for Responsible Gaming.
The incentives for continued responsible gambling (RG) innovation are clear, but the challenges that still lie ahead are considerable. With the recent release of the UKGC rules on action for at risk customers, RG thought and planning is required more than ever. However, through the advancements in cloud computing, as well as the transition of AI from academia to real-world commerce, the industry is now more equipped than ever with powerful RG solutions that can satisfy regulatory requirements, but more importantly, they can support and protect the player's experiences. Win-win.
Responsible gambling innovation
There are three core fundamental areas in which technology is now either catching up with, or indeed exceeding the pace of regulatory demand. Below we detail what they are and what they should mean to you.
1. From 2D to 3D player profiling
Current approaches often focus on predicting customers who are liable to self-exclude. Whilst prior self-exclusion data is tangible and useful, it is only part of the solution. Regulators are now mandating that operators also track behaviours that are indicative of harm. Future Anthem have combined respected academic research (see at the bottom) and state-of-the-art machine learning technology to build models that can detect a more three-dimensional problematic player profile. We can now apply these models to surface subtle behavioural Markers of Harm hidden in gameplay data.
2. From delayed to real-time deployment
Updated guidance from the Commission requests that operators "continuously monitor" customers, while empirical analysis indicates that high-risk players are disposed to bet out-of-hours during the week. Analysing player data in batches and making delayed interventions is no longer best practice. Future Anthem's tech stack can plug into operators' ecosystems, ingesting millions of spins in real-time and mitigating player risk as it arises.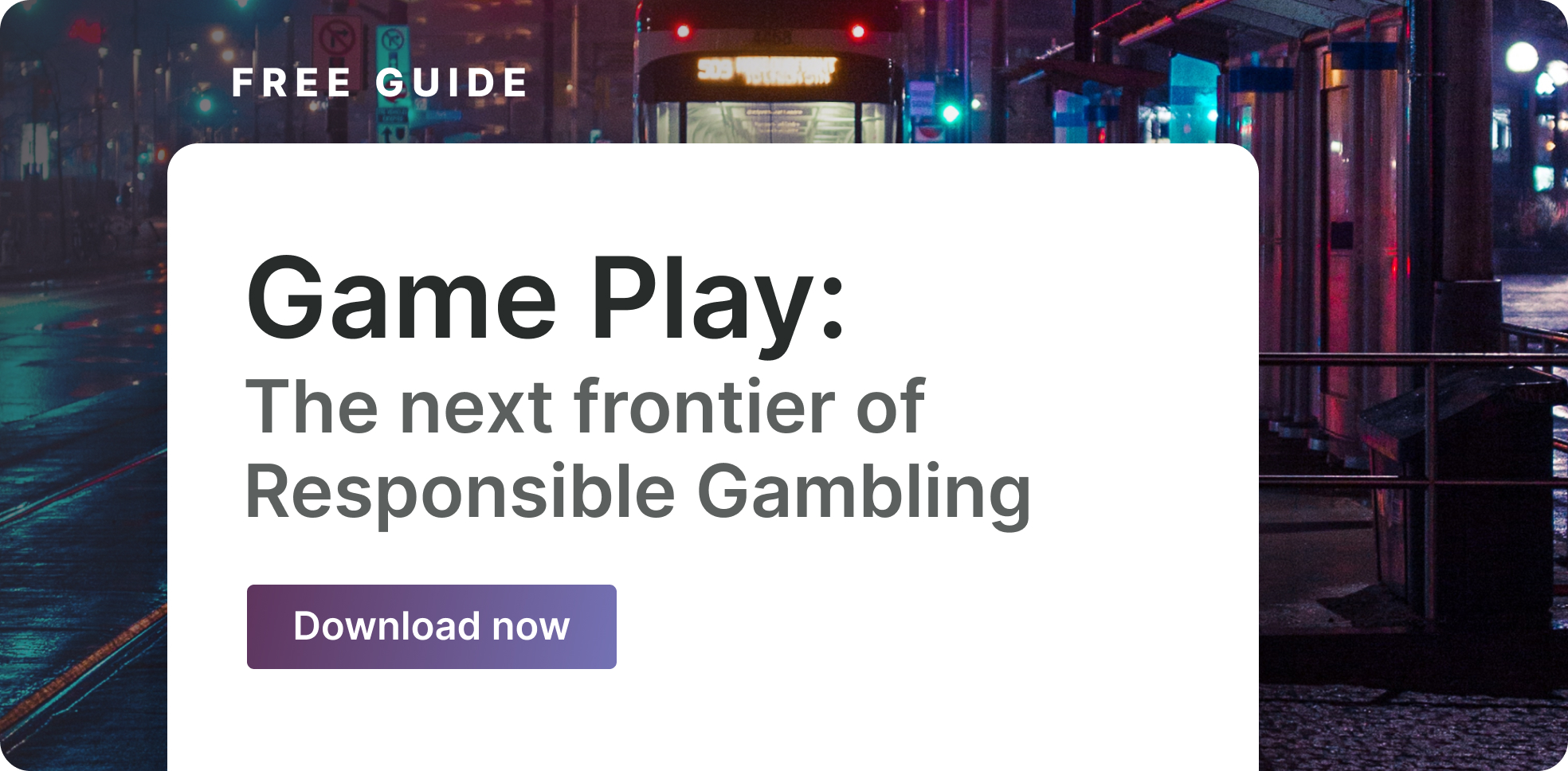 3. Responsible game design
Regulators have issued a challenge to the industry to embed safer gambling principles into games. The industry has in turn taken the initiative to make a number of major commitments to responsible game design. But it remains an open question whether mathematical game properties and game features may lead to Markers of Harm, and if so to what extent. Future Anthem are developing answers to these questions, by fusing markers-of-harm models with granular game intelligence.
Implementing better customer experience
As part of a recent release of Amplifier AI Future Anthem announced one of their three key modules — customer experience.
It enables studios and operators to reduce churn and increase engagement with real-time player interactions, individual player monitoring and targeted player protection.
Read more about Amplifier AI, or book a demo to see it for yourself
Further reading: recent responsible gambling research
Building on the foundations of a complementary responsible gambling assessment earlier in the year, Future Anthem and Gamesys — a Bally's Corporation company recently partnered to analyse the extent to which player markers of harm may be driven by the games that players choose to play.
The results: through the modelling of 36 million gaming sessions, we found no statistically significant correlation between player markers of harm and three structural game characteristics: Volatility; Return to Player (RTP); Hit Rate
Read more about the results here.
---
Other research on the topic:
PwC Responsible Gambling Council. Remote gambling research: Interim report on Phase 2.: Gamble Aware.
Wood, R.T.A. and Griffiths, M.D., A qualitative investigation of problem gambling as an escape-based coping strategy. Psychology and Psychotherapy: Theory, Research and Practice, 80: 107-125.
Fang, X. and Mowen, J.C., "Examining the trait and functional motive antecedents of four gambling activities: slot machines, skilled card games, sports betting, and promotional games"
Braverman, Julia & Shaffer, Howard. (2010). How do gamblers start gambling: Identifying behavioral markers for high-risk internet gambling. European journal of public health.