Future Anthem is delighted to collaborate with Tom Wood, CEO of RAW iGaming on our latest episode of Tune Into Data — 'Driving success with a studio fuelled by AI'. In the podcast episode, Tom talks about how he's built a platform that feeds data to every part of his business, powered by Amplifier AI.
While we'd recommend watching the full video, if you are short for time, read our five key takeaways below👇🏽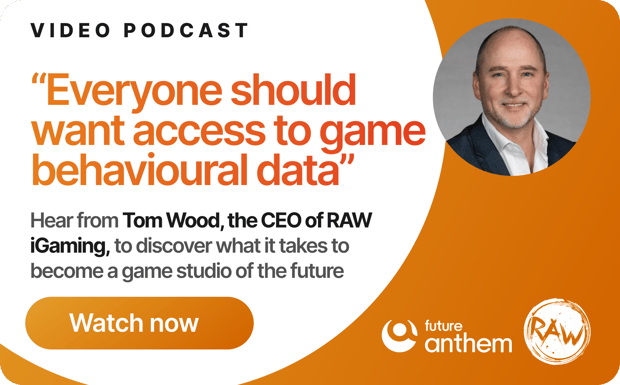 1. Have access to granular insights
To become a studio of the future, you need to have data. Data on players, game performance, revenue and much more.
It allows you to benchmark and see where your strengths and weaknesses may be. For example, understanding your player insights helps to learn about cultural trends and differences. This can be used for game launches in target markets and improving the experience for existing customers, improving retention.
Anthem has seen this first hand, in our recent 'State of Online Gambling' we shared that 66% of the gambling industry believes their organisation is 'somewhat effective' at extracting the full value of data.
As Tom noted, "it's going to take some time to learn (how we can) use the data and tools to actually learn how players play this new kind of game, and how can we make it better and more exciting for them."
2. Look at your target markets
Having an action plan and understanding how players behave is key to new market success. You're setting yourself up for failure without equipping yourself with real-time, accurate player insights.
"If you're trying to focus on Italy, UK or US, the game styles are quite different. Unless you have access to the data and understand the player mentality and behaviour it's going to be hard to hit the requirements that player has in that marketplace" said Tom.
Future Anthem helps studios to reduce their risk for game launches with Game Recipes - the secret sauce for game design. Learn more about them in the video below:
3. Consider all teams in your business
Data is vital to all teams, whether you're creating the game itself or marketing it. For example, your commercial team can use player insights to create more accurate targets, customer lists and identify missed opportunities.
As Tom remarked, "when we start(ed) sharing data internally about how the games are performing, now everybody wants access to the tool, and these internal people should see this as more of an opportunity than a threat".
4. Don't be afraid of change
Introducing new technology to a business may create added costs and training which creates hesitancy, but adding tech to your business could be revolutionary. Why wouldn't you want to improve player retention, revenue and time in the long run? it's a no brainer.
"One of the things that really got me excited about working with you guys is that you are pulling some 80 billion spins through your system", Tom shared.
5. Be bold
With so many game studios in the market, now is the time to be bold and exciting. As Tom says, don't look inside the box, throw the box away:
"Data is extremely important to innovation and if we look at our industry, it's hard to identify. A lot of people say they're doing innovation, but they might be just doing a small feature change on an existing model or something of that sort. I think the data really helps you to decipher and find out those gaps where you can actually create real innovation"
Take the next step on your data journey
At Future Anthem we are committed to improving the player experience for everyone, no matter the size of your game studio.
Learn how to design, launch and promote your games with confidence. Outsmart the competition and see how players really play your games.