As we move into May – the month with more UK public holidays than I can remember (and a King's coronation!) – there has been plenty going on at Future Anthem HQ.
First up is the official launch of our real-time personalisation product, Amplifier AI. Whilst it's not "new" to us or our customers, we thought we could do a better job of wrapping our innovative, market-leading modules and features in a single product. With one quick data integration, our customers can access all our amazing machine-learning models with fast results.
Within Amplifier AI, we've hit several significant product milestones this month alone, which makes April a month of celebration - a testament to the strength of our products and the big plans we have ahead in the Race to Real-Time Personalisation.
We celebrated the launch of Amplifier AI with our first demo event, and following that, we successfully upgraded one of our cornerstone modules, Optimise v2.0 – interactive dashboards in PowerBI that let you see how players really play like never before. More on this below.
Our people are truly the heart behind the product. This month, we all collectively took a few breaths of pause and reflection... and then celebrated Anthem-style, which means lots of team spirit and fun - this time, with a muddy twist!
There are plenty of exciting things to look forward to in May. Looking ahead, there won't be any let-up this month, with our plans including a couple of trips Stateside and a visit to Malta for the team.

Get in touch if you're heading to SBC North America or the CasinoBeats Summit – it will be great to meet up!
May the 4th be with you.
Leigh (a CEO that enjoys Star Wars puns)

Celebrating Amplifier AI – at our first-ever Demo Event🎓
Last month, we launched the first session of our Demo series, which was a great opportunity internally to showcase Amplifier AI's new tech and features to the wider team.
The event, titled "0 – 60: The Race to Real-Time Personalisation, was designed to highlight the (fast and transformative) journey our customers can expect in their first 60 days with us, showing how Amplifier AI unlocks real-time personalisation at a rapid pace, and how our customers are successfully utilising it.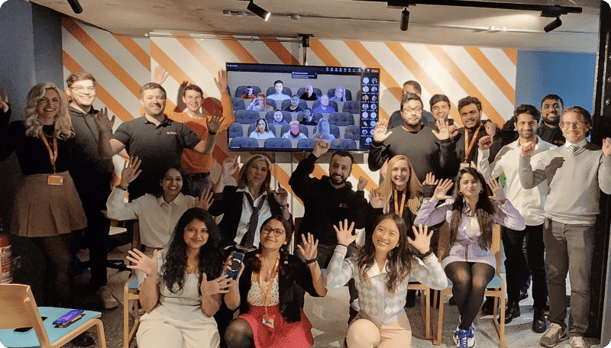 We rallied together the whole team for Demo Day - both in-person and virtual!
Afterwards, we took a necessary pause to reflect on the journey we've been on to get here. We celebrated in style and nostalgia, thanks to an epic team-building event where we went back to school. We enrolled the class of Future Anthem in geography, history, and music lessons – complete with report cards, throwback lunchbox treats, and shiny medals for our outstanding pupils!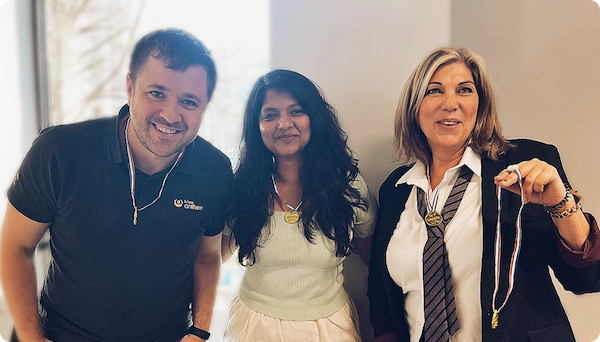 Anthem goes back to school! A few snaps from the day.
With the day a success and the whole team intimately aligned on the ins and outs of Amplifier AI, we ran another demo session for our investors, and will offer the same for our customers in May.
If you or your company would like to book a demo with us, then feel free to book some time. We'd love to walk you through Amplifier AI (minus the report cards!)
The team triumphs at Tough Mudder 💪
We're always up for a challenge at Future Anthem – but they aren't normally as tough (or as muddy) as this one! Last month, nine of us spent a cold and wet Sunday morning in Finsbury Park, taking part in Tough Mudder, and were pushed right to our physical and mental limits. From the Arctic Enema, where we had to jump into and swim through freezing water, to the Electroshock Therapy obstacle, which involved running through a field of dangling wires carrying high-voltage electrical shocks, it was a fantastic and fun opportunity to test our teamwork and build trust.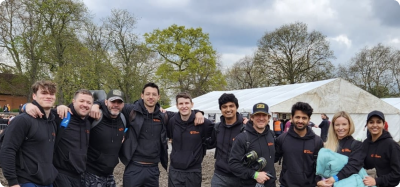 Despite the challenges, we crossed every obstacle. Onwards and upwards!

Optimise v2.0 launches out of beta
By the time you read this email, we will have transitioned all of our customers over to the new version of Optimise - our suite of interactive dashboards that analyse billions of anonymised transactions to bring your teams the data points they need to make fast, informed decisions.
With improvements in usability, data pipelines, and security, Optimise v2.0 delivers never-seen-before views of player journeys, retention paths, game launches, player behaviours and so much more.
When I started Anthem this was a foundational module to help understand personalise player experiences, built from individual gaming sessions. This upgrade sets the path for new additional features and a more formal release cycle with roadmaps that our customers can enjoy, bringing many aspects of our recommendation engine into life with clear views of player behaviours.
If you'd like a demo, please feel free to get in touch.


Double nomination for Anthem at the industry's 'Oscars'
🎉
We are excited to share that Future Anthem has been nominated for two awards at the upcoming EGR B2B Awards, for both Data and AI Partner; and Acquisition and Retention Partner.
This nomination is a reflection of our team's commitment to innovation and excellence in the gaming industry and we're proud to be recognised for our hard work in Game Data Science and AI.
We'll be at the ceremony at the legendary Roundhouse in London on 8th June, so if you're heading down, let us know, and we can raise a glass to the incredible work in the industry.

Around the world in... 13 days 🌎
Matt, Ian, and I will be attending the upcoming SBC Summit North America in New Jersey from the 9th to the 11th of May. It's always one of the top events on the calendar and a great opportunity to mingle, learn, and talk shop about the latest trends and innovations in gaming and sports. Who's going to join us?
Later this month, our senior sales lead, Ben, will be representing Anthem at the Casino Beats Summit in Malta (23rd May).
The last stop on the Anthem May world tour: on the 24th, our Chief Data Officer, Chris Conroy will share insights on how AI can be used to predict and prevent problematic gambling behaviour at the 18th International Conference on Gambling & Risk Taking in Las Vegas, Nevada. Hosted at the Park MGM, it's sure to be a hot ticket.
Will you be at any of these events? Let us know – don't be a stranger and drop us a line.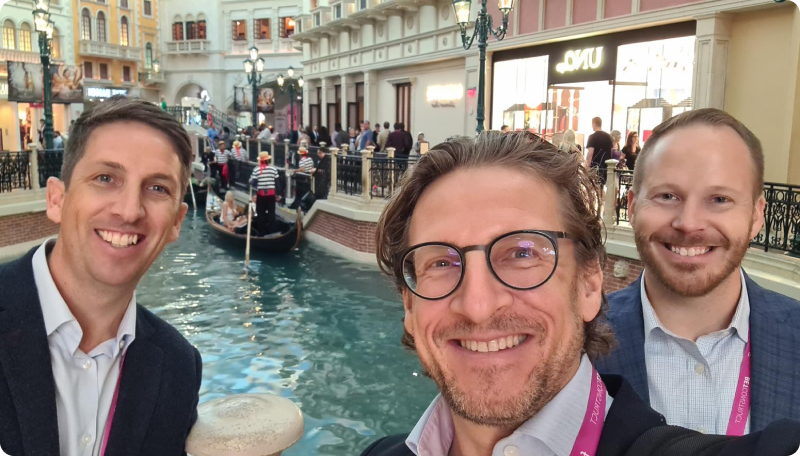 This Terrific Trio will make another appearance at SBC Summit North America.

Next to step up to the virtual decks is Laura Bird, our CFO.
Laura shares the same heart for music as I do, and she's not just a super fan – she also plays and practices piano and guitar in her spare time! She loves live music and attends more than 30 concerts a year, with one of her recent favourites being the Paramore gig at the O2. The band's 2009 song 'All I Wanted' features in her selection, alongside the likes of alt-J, Jeff Buckley, Mötley Crüe, and Red Hot Chilli Peppers.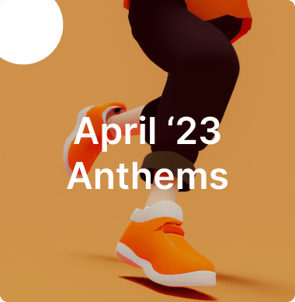 I find one of the best ways to check out new music is when exercising, so to mark the launch of the #RaceToRealTime, and in honour of the 50,000 people who took part in this year's London Marathon, why not check out her playlist on your next run?Lace up your trainers and you'll get from 0-60 real fast.

Make sure you follow Future Anthem on Spotify so you never miss a beat and tune into our monthly earworms!

We're hosting auditions 🎤
Like what you hear about Future Anthem? Want to work in the hugely rewarding field of data and AI? We've just posted several new vacancies, so check our our new job postings and get in touch.
We're always on the lookout for new members to join the band at Anthem. We have an all-star team with some of the industry's sharpest minds - like our Senior Data Scientist, Jorge Brasil who just published a book on linear algebra for AI.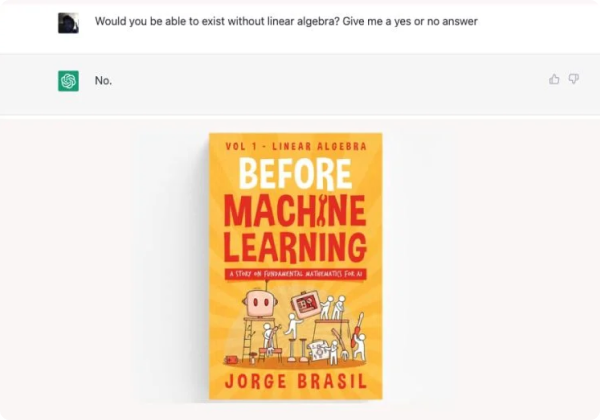 If ChatGPT can't exist without linear algebra, then how can we? To find out the answer, pick up Jorge's new book, "Before Machine Learning".
If you're bright, self-motivated, and have an interest in Anthem or gaming (or know someone who is), then we'd love to hear from you!
Best regards,