Personalised Marketing is empowering sportsbook operators to achieve unprecedented levels of engagement and customer satisfaction in real-time.
Results so far indicate an almost 50% email open rate with Personalised Marketing Data generated by Amplifier AI – Anthem's market-leading AI product that personalises every step of the player journey.
Operators are using the Personalised Marketing Data APIs feeds from Amplifier AI to serve individualised messaging and behavioural statistics to every player, whether that be on-site, through notifications, or email.
Personalised Marketing Data is the latest addition to Amplifier AI, Anthem's all-in-one AI product, designed to personalise every step of the player journey.
Ian Tibot, Chief Product Officer at Future Anthem, notes "With our Real-time Personalised Marketing Data feed, we are tackling a fundamental challenge in the sports betting industry — the lack of accurate, timely and relevant data to enable true personalisation of marketing."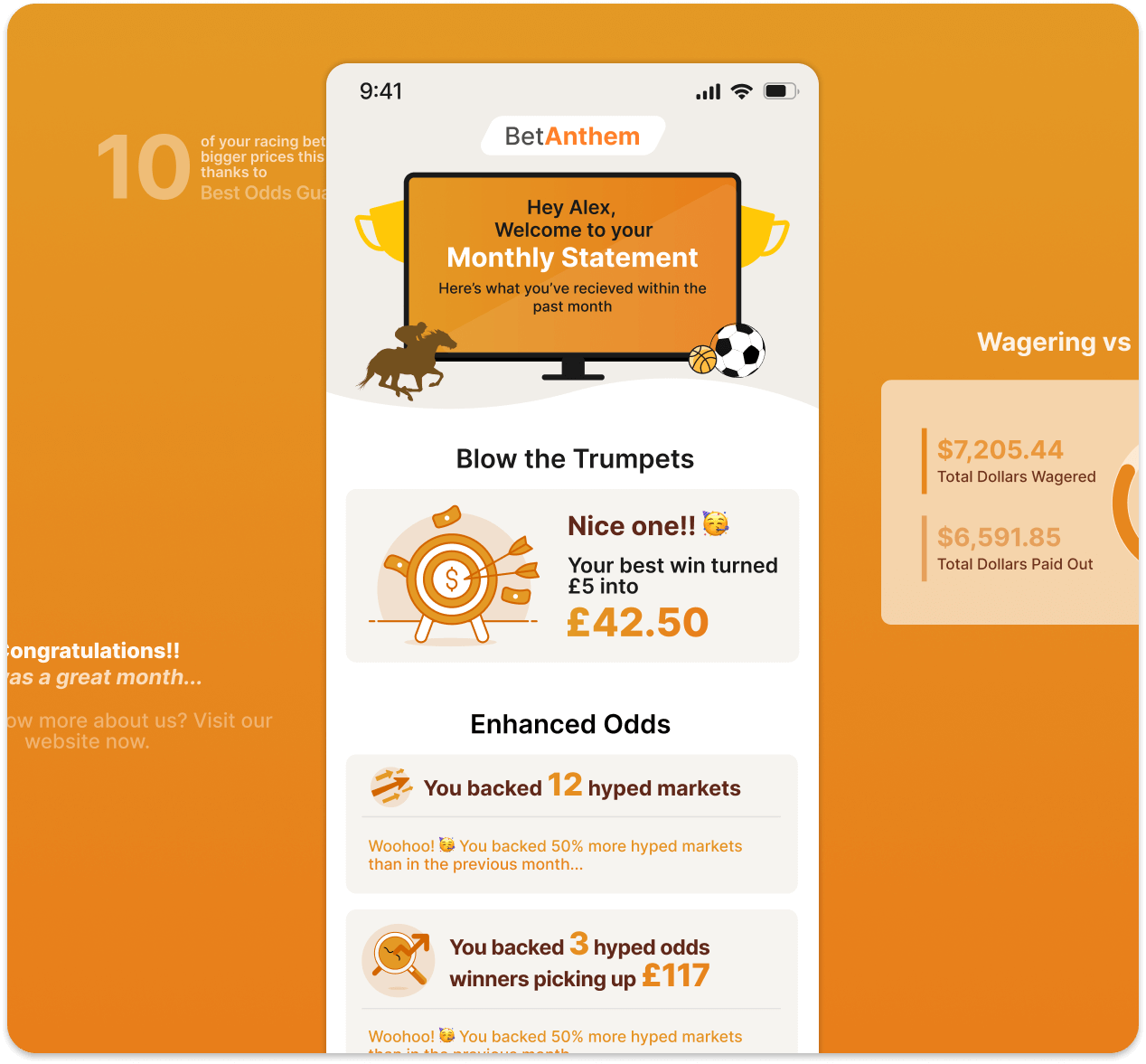 Example email utilising Personalised Marketing Data for the fictitious BetAnthem
Key Benefits of Personalised Marketing Data
1. Real-time enabled: Personalised Marketing Data leverages real-time data to empower operators with the ability to flexibly deliver the data that CRM and promotions teams need to personalise marketing content to each player in the moments that matter to players.
2. Personalised data profiles: Anthem creates detailed data profiles for each player, facilitating targeted and effective marketing campaigns.
3. Streamlined integration: Personalised Marketing Data seamlessly integrates with popular third-party systems, eliminating the need for additional development and ensuring a hassle-free implementation process.
4. Boost player retention: In addition to playing back key content to every player, tailored offerings can be included to increase player retention and drive revenue.
How Personalised Marketing Data works
Personalised Marketing Data begins by transforming millions of bets in transactional data and generating comprehensive data profiles for every player. These data profiles enable operators to seamlessly incorporate personalised content and data points into their marketing campaigns.
There is a very simple and fast integration with leading third-party content delivery systems, such as Movable Ink, who focus on personalised content in email, push and in-app. It streamlines the delivery of personalised marketing content without the need for extensive development efforts.
Personalised Marketing Data unlocks a multitude of use cases, including providing aggregated data for personalised insights on every single bet, free bets, concessions, boosts, and enhancements. This enables sportsbook operators to cultivate trust and loyalty among their players, driving repeat engagement and retention.
Unprecedented Results and Key Stats
Personalised Marketing Data has achieved remarkable results, working with a large UK operator, statistics showcasing almost a 50% email open rate from personalised marketing campaigns compared to previously measuring single digits. Future Anthem has effectively sent over millions of personalised data points per month.
Ian Tibot commented: "Our clients have experienced extraordinary revenue growth, generating an extra six figures in revenue from customers who received our Personalised Marketing Feed. Additionally, the active user base within the Personalised Marketing Data group has seen significant expansion. We are committed to enhancing the click-through rate of email campaigns, creating an enriched experience for players."
To explore how you can increase player retention and revenues with Personalised Marketing Data, please book a demo with one of our experts.


About Future Anthem
Future Anthem humanises data with their all-in-one product, Amplifier AI, to personalise the player experience for everyone. Utilising quick-to-deploy modules across the entire player journey, Future Anthem harnesses real-time machine learning to onboard and retain customers responsibly.
Trusted by the world's leading gambling operators and studios – including STS, Betsson, Big Time Gaming, Blueprint Gaming, and Eyecon – Anthem was named Data & AI Partner of the Year at the 2022 EGR B2B Awards and Software Rising Star in 2021. Future Anthem was also selected for the highly coveted Tech Nation Applied AI 3.0 Growth Programme.