Player retention is a major problem for Sportsbooks – Future Anthem research has found that 75% - 90% of players have a tenure of less than 60 days
Amplifier AI's Churn Prevention module combines AI and real time personalised interventions to bring the latest technology and sports betting expertise to address this significant industry problem of player retention.
This new module from Amplifier AI enables an in-the-moment response to prevent churn, improving the player experience, increasing potential revenue and improving player loyalty in unison. This market-leading transformation marks an industry shift from a reactive, rules-based CRM approach to a predictive and preventive strategy, driven by the power of AI and Data Science.
In addition, results show that by combining Amplifier AI's Churn Prevention and Bonus Recommendation with real time player interventions, 80% of players who are likely to churn can be retained and will continue to play with real money.
This new feature of Amplifier AI for sports operators complements the existing churn prevention module designed for casino operators in Future Anthem's all-in-one personalisation product Amplifier AI, solidifying Anthem's commitment to personalising every step of the player journey in gaming category.
Ian Tibot, Chief Product Officer, Future Anthem remarks, "Traditionally, sports operators have waited until a player has been inactive for up to 30 days before attempting to reactivate them with uninspiring results."
"Amplifier AI's Real-Time Churn Prevention API feed takes a proactive approach by predicting churn immediately after each bet is settled. Within 8 seconds of settlement, operators can engage with players while they are still on the platform or through timely email and push notifications."
How Churn Prevention works
By integrating the Real-Time Churn Prevention feed into an operator's CRM system, Future Anthem empowers operators to automate communication with their customers using the feed as the trigger in existing workflows.
To accurately predict churn, Future Anthem's solution leverages transactional details provided by operators — all of which can be set up within a few weeks. By analysing key data points from bet and bonus transactions, their advanced models identify potential churn signals.
Furthermore, Future Anthem provides operators with seven reason codes, enabling them to understand why a user is predicted to churn.
This invaluable information allows operators to tailor their bonus offerings and communication strategies, significantly enhancing player retention. Churn Prevention acts as an AI co-pilot, simplifying the decision-making process for operators, helping them determine the most effective bonuses for each customer based on reason codes.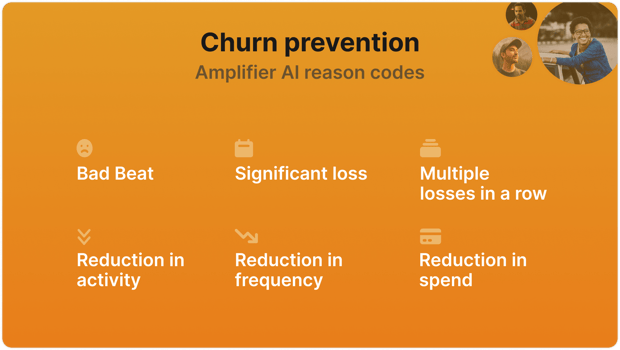 Unprecedented Results and Key Stats
Recent results for a large European operator have showcased exceptional outcomes for employing Future Anthem's Real-time Churn Prevention solution.
With over 5% of players at risk of churning every day, the value of re-engaging players is significant. In addition, targeted bonusing leads to an 80% continuation of play with real money betting for players who are likely to churn, illustrating the solution's efficacy in boosting revenue generation.
To learn more about Amplifier AI's Real-Time Churn Prevention solution and explore its benefits for sports operators, please book a demo.
About Future Anthem
Future Anthem humanises data with their all-in-one product, Amplifier AI, to personalise the player experience for everyone. Utilising quick-to-deploy modules across the entire player journey, Future Anthem harnesses real-time machine learning to onboard and retain customers responsibly.
Trusted by the world's leading gambling operators and studios – including STS, Betsson, Big Time Gaming, Blueprint Gaming, and Eyecon – Anthem was named Data & AI Partner of the Year at the 2022 EGR B2B Awards and Software Rising Star in 2021. Future Anthem was also selected for the highly coveted Tech Nation Applied AI 3.0 Growth Programme.