With the summer a fading memory – at least here in wet and windy London – the pace of momentum in the gambling industry always picks up at this time of year.
The conference season is in full swing as I write this between trips to Canada, Barcelona and finally G2E Las Vegas and, as ever, there is plenty happening at Future Anthem. Below is our handpicked selection of what's hot for us right now.
As a growing B2B business, we thrive from these events, fuelling our customer conversations and presenting new opportunities, both planned and unplanned - more on that soon as we progress into the last quarter of 2023 and beyond.
I often hear these conferences are "tiring" or "hard work" - IMO they're no such thing. We meet great people, with fantastic businesses, often in nice restaurants and hotels, in beautiful cities. Personally, I feel privileged; I also learned how to play Dobble this year for those who know...
See you in Vegas baby!
Leigh Nissim
Founder & CEO

---
Here are the top things you need to know from Future Anthem right now:
1

Goodbye one-size-fits-all. Hello, game-changing personalisation.
Future Anthem's recently launched real-time AI sports product is changing the way that operators interact with players, heralding a new era for sportsbook personalisation.
The suite of sports features delivers a step change in player engagement, creating unique and customised sports betting experiences that engage in real-time.
We had some fun with the launch by asking Chat GPT how sportsbooks should implement AI solutions for player experiences.

As you'll see from the video it had some good ideas… not least the recommendation that 'it's advisable to consult with AI experts'!
So, what are you waiting for? Speak with one of our team today to find out how to deliver the entertainment experiences that have been set by the likes of Spotify, Netflix, and Amazon.
2

Our biggest achievement to date is our team
Want to know what led Leigh Nissim to set up Future Anthem? He tells all about the recently launched TalkGambling. The interview also covers:
✅ Why a flexible approach to working with customers is rule No. 1
✅ How Anthem helps operators and studios overcome 'an eternal puzzle to solve' in managing their games and data
✅ Why our team is our biggest achievement

Meanwhile, Ian Tibot spoke with air_space alongside representatives from Playson and ClearStake about how to reduce player churn and boost engagement. Read it here.
3

The Anthem pod squad
Ian was also busy appearing on iGamingFM, covering the future of personalised AI experiences. Listen as he talks about his extensive industry experience and how he's applying that to help Future Anthem revolutionise the sports betting space.

Also in the hot seat was Chris Conroy – a guest on HIPTHER Talks – where he shared his thoughts on real-time personalisation and why it is a game-changer in acquisition and retention. Listen here. 🎧
4

It's showtime!
The verdict was unanimous: September's SBC Summit was a real hit as it bowed out from its Barca base in style. With the show moving to a bigger venue in Lisbon for the 2024 edition it promises to be even better in 12 months' time.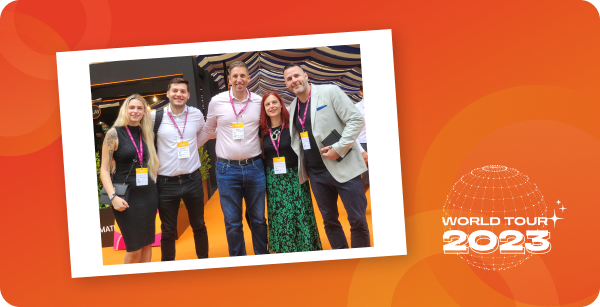 If you can't wait until then – we know we can't – check out our highlights from this year's show below and make sure you arrange to see us in Vegas at G2E.
See you stateside!
---
If you enjoyed this, keep up with Future Anthem by forwarding it or sharing it with a friend. And be sure to follow Future Anthem on Spotify to tune into our monthly earworms, handpicked by a different team member!
Your Friends at Future Anthem