Future Anthem is proud to announce the launch of Audience Identifier, a revolutionary product designed to empower marketing and CRM teams at sports operators to generate highly targeted audiences in real-time.
Audience Identifier's self-service UI enables an in-the-moment approach to promotions and marketing campaigns that has led to a 200% increase in app open rates for push notifications.
Audience Identifier is the latest addition to Amplifier AI, Anthem's all-in-one AI product, designed to personalise every step of the player journey.
In today's competitive landscape, players are increasingly demanding highly personalised experiences. The tired cycle of sending the same repetitive offer to every player is outdated — and the manual configuration through filtering by sport or last bet, is no longer a quick-enough way of meaningfully segmenting customers. Despite having access to vast amounts of data, operators struggle to effectively identify and engage the right audience segments in real-time.
With Audience Identifier's self-service UI, sports betting operators can now easily navigate through millions of data points to identify target audiences in real time based on behavioural betting patterns to engage players at the moments that matter with hyper-targeted, personalised promotions.
Audiences are rapidly shared with third parties via simple integrations or directly into operators' systems — there is also an option of downloading audiences locally.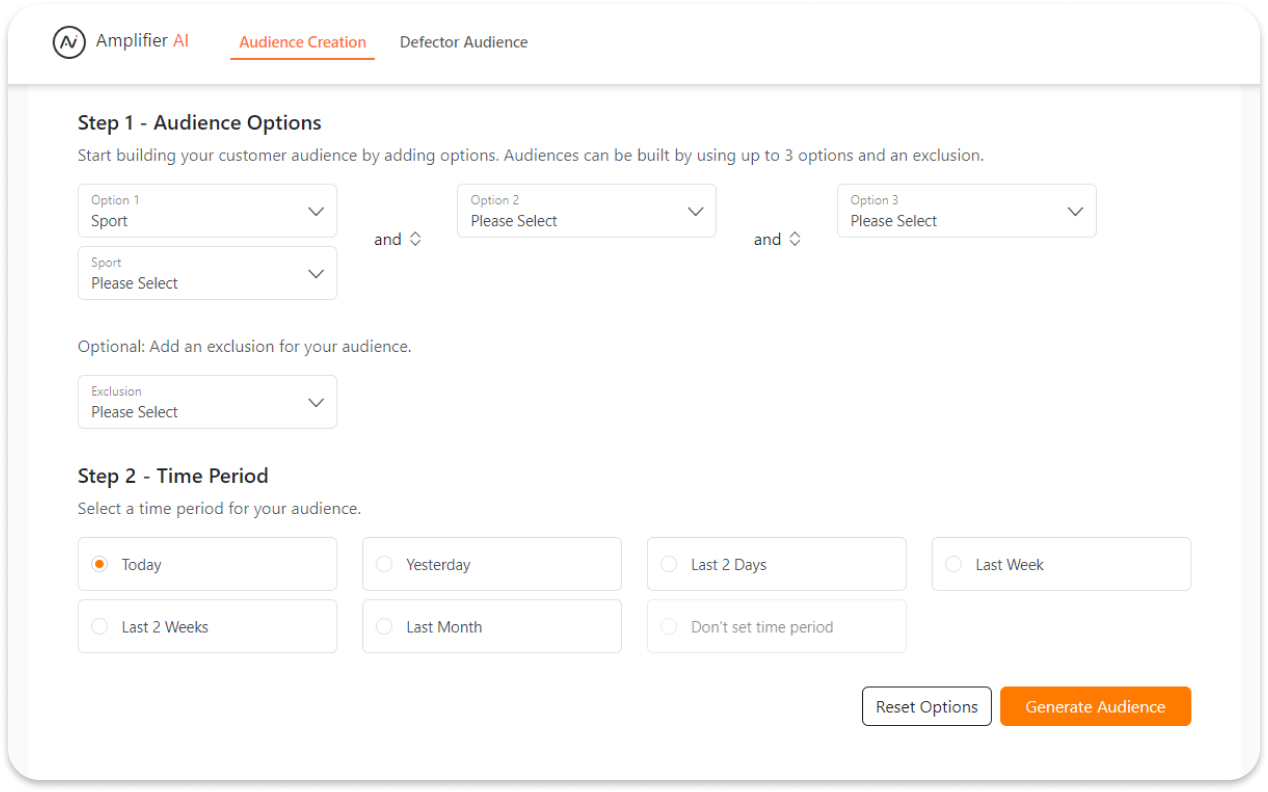 Audience Identifier's self-service UI
Key benefits of Audience Identifier
Real-Time Audience Creation: With Audience Identifier's self-service UI, operators can generate targeted audiences within split seconds of key events, allowing them to make timely and informed decisions on promotions and marketing campaigns. Whether a player has just won a bet on the Champions League Final or lost on the Super Bowl, you can communicate with them in a matter of seconds.
Enhanced Targeting Capabilities: By leveraging the power of data, operators can create granular audiences and exclusion lists to ensure they reach the right customers with the right message. You can create audiences from various options, including specific sports, competitions entered, bet type, bet builder and much more.
Seamless Integration: Audience Identifier cloud-based approach seamlessly integrates with existing systems, such as Movable Ink, Airship and Adobe, enabling businesses to directly feed the generated audiences into their preferred communication channels for efficient and personalised marketing campaigns.
Streamlining operations: Audience Identifier streamlines operations by saving time and improving productivity. Audience Identifier has demonstrated impressive time-saving results for the operator's CRM team, saving them an average of one working hour per day per team member.


Results speak for themselves
Future Anthem's product partnership with a renowned industry leader highlights the success and effectiveness of Audience Identifier.
Ian Tibot, Chief Product Officer at Future Anthem explains, "We have been able to quickly generate audiences within days of initially receiving millions of bets in raw data. Within a month, Audience Identifier was driving a personalised, real-time marketing campaign for one of their biggest sporting events of the year. The initial success has led to Audience Identifier powering over 90% of all the audiences our customer created internally."
Audience Identifier has yielded significant benefits to player experience, improving the way they play and engage with the app. Engagement rates have soared with the sports operator with an average app open rate increase of 200% for push notifications using the audiences generated by Audience Identifier.
To see Audience Identifier for yourself, book a demo.
About Future Anthem
Future Anthem humanises data with their all-in-one product, Amplifier AI, to personalise the player experience for everyone. Utilising quick-to-deploy modules across the entire player journey, Future Anthem harnesses real-time machine learning to onboard and retain customers responsibly.
Trusted by the world's leading gambling operators and studios – including STS, Betsson, Big Time Gaming, Blueprint Gaming, and Eyecon – Anthem was named Data & AI Partner of the Year at the 2022 EGR B2B Awards and Software Rising Star in 2021. Future Anthem was also selected for the highly coveted Tech Nation Applied AI 3.0 Growth Programme.