Anthem Amplifier analyses and predicts player behaviours to improve the player experience for everyone.
London, UK – 1st September 2021 – Future Anthem, the pioneering AI and game data science specialist, has launched Anthem Amplifier, a first-of-its-kind offering which provides an in-depth analysis of all bets and spins players make on casino games.
Amplifier enables operators and studios, including Big Time Gaming, which is among the first customers, to analyse player behaviours across casino games on an unrivalled scale.
Built using advanced data science and proprietary machine learning models, Amplifier interprets player behaviours at scale to deliver intelligence, predictions and actions that can be applied to portfolio decisions, product design and player safety when gambling.
Amplifier is powered by Anthemetrics AI, the industry's first game data science platform, which analyses billions of spins from millions of player hours across thousands of games.
Amplifier's intuitive portfolio tools deliver self-service interactive dashboards, 'recipes' for game design, and professional services that complement data teams with additional capacity and expertise to address specific gaming opportunities or challenges. With Amplifier, games studios and operators can:
Design games for specific player behaviours
See how players play their games
Analyse and measure game launches
Improve online gambling safety for players
Benchmark performance across channels, brands and geographies
Identify game popularity and retention across player behavioural clusters
Leigh Nissim, CEO and Founder of Future Anthem, said: "Our vision is to connect human behaviour with data science to build a player-centric universe that is enjoyable and sustainable. Anthem Amplifier does this with tools that allow studios and operators to optimise their game portfolios by processing and intelligently understanding an incredibly large volume of data."
Nik Robinson, CEO of Big Time Gaming, added: "Understanding player and game behaviours should be at the heart of every successful studio. Leveraging game data and the AI tools provided by Anthem Amplifier provides us with additional opportunities to continue optimising our innovative slots, whilst pleasing our customers and players."
Chris Conroy, CDO, Future Anthem, said: "With a great deal of scattered data produced by varied portfolios of games across geographies and channels, it can be challenging to leverage this valuable asset to get the most from your investments and roadmaps.
"Anthem Amplifier uses the latest cloud technologies and machine learning techniques to listen to this granular game data to maximise your chances of success, empowering teams with effective portfolio management tools and game design techniques."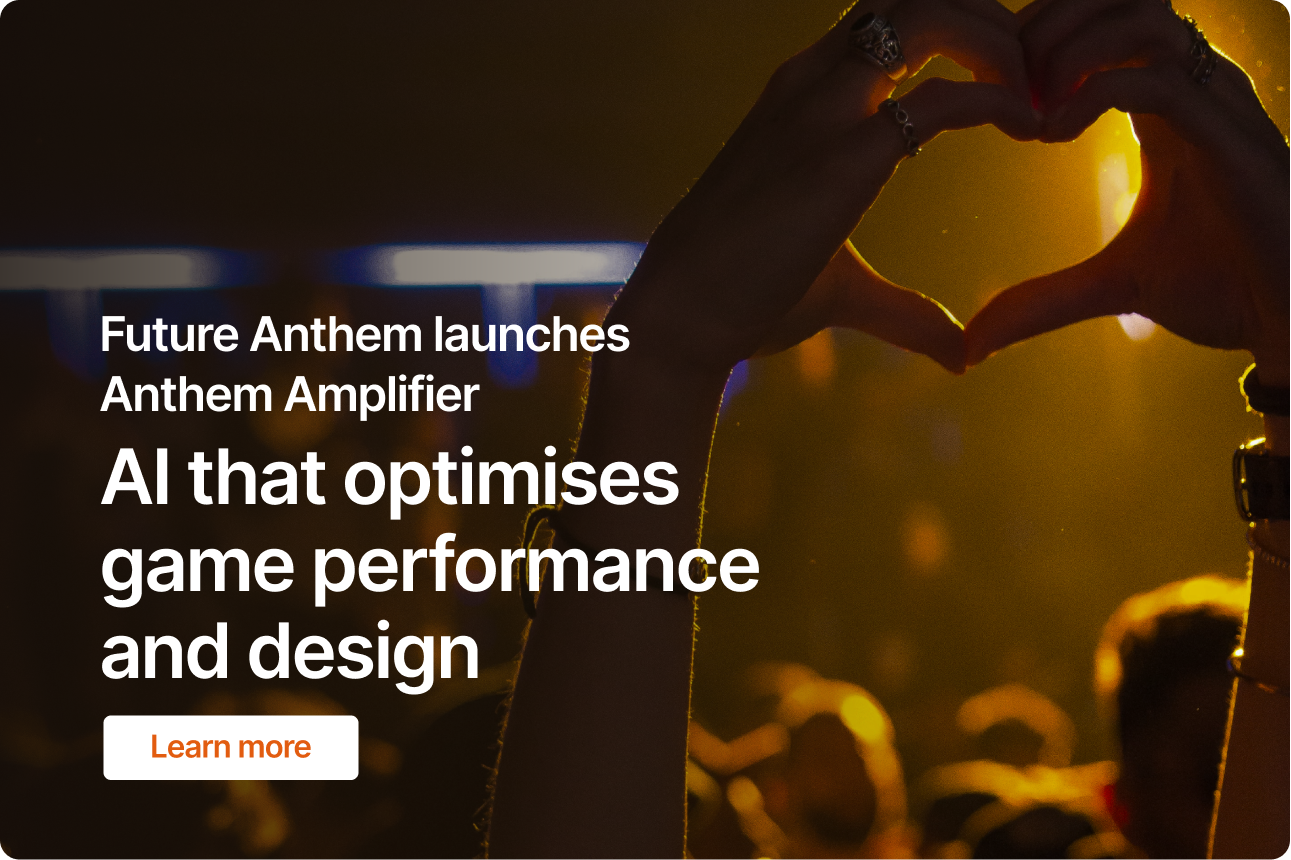 Anthem Amplifier is available now. For more information visit https://www.futureanthem.com/products/anthem-amplifier, or contact one of our experts.
About Future Anthem
Future Anthem combines cloud-based technology and machine learning to provide actionable intelligence to help its customers grow responsibly. Powered by Microsoft Azure, our highly scalable Anthemetrics AI platform delivers measurable improvements to enhance the player experience for everyone. Our data products personalise and protect the player experience in real-time. We also enable operators and studios to apply data to product design decisions and to optimise performance. We call this Game Data Science. Future Anthem was announced as EGR's 2021 Rising Star.