Market leading data and AI company Future Anthem builds product capabilities by boosting team in numerous key positions since transformational Series A funding

Future Anthem, the pioneering AI and data science powerhouse, is proud to announce a significant expansion of its workforce, which has more than doubled since the company's Series A raise in July 2022. With an impressive surge from 21 members just over 12 months ago to a thriving team of 43, Future Anthem is set for even more growth.

With over two-thirds of the Anthem team now comprising experts in data science, product, and engineering, the company's technical talent is a core competency and strength. These professionals' specialised knowledge and skills contribute to Future Anthem's ability to deliver personalised player experiences in real-time, creating a more immersive and engaging user environment across casino, sports betting, and lottery categories.

A number of recruits have also joined from top-tier betting and gaming operators and suppliers, including William Hill, Churchill Downs, Ladbrokes Coral, Betway, and Gaming Realms.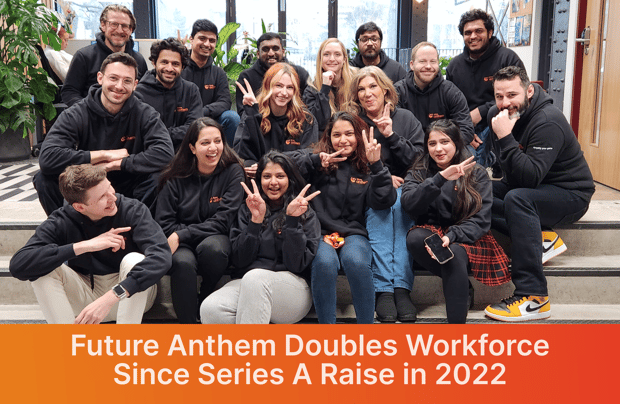 "We are proud to have assembled a team of experts who not only possess exceptional technical abilities but also deep insights into the specific dynamics of the sports betting and gaming industry," said Emma Ferguson, Head of People at Future Anthem.

"By harnessing the knowledge and expertise of our diverse workforce, we are well-positioned to develop AI products that address the evolving needs of our clients and drive transformative change within the industry," added Ferguson.

Future Anthem's success in recruiting top talent has been reflected in its hiring and development of interns that have graduated from renowned UK universities with top master's degrees in data science and artificial intelligence. To date, seven full-time employees began their journey as interns, highlighting Future Anthem's dedication to nurturing emerging talent and providing valuable growth opportunities.

Furthermore, recruitment efforts have extended beyond technical roles with an acceleration on commercial hiring, complete with the recent appointment of Ann-Kathrin Baumgardt, VP of Sales and Customer Development for Europe, Middle East & Africa (EMEA), from IGT.

Committed to fostering diversity and inclusion, Future Anthem boasts a workforce comprising 16 nationalities, creating a vibrant multicultural environment. Additionally, Future Anthem has achieved a commendable – better than tech-average – 40% female and 60% male gender ratio, and continues to aim for improved diversity KPIs. To accommodate its growing team, Anthem recently opened a brand new office in Shoreditch, a tech hub in east London.

Through the rapid expansion of the team and a steadfast commitment to enhancing player experiences, Future Anthem has bolstered its award-winning real-time personalisation product, Amplifier AI, by enhancing its core modules across player acquisition, conversion, and retention, with player health interwoven across all. This strategic investment in product development and R&D enables Future Anthem to continue to empower the industry to create highly tailored and sustainable player journeys in real time.
About Future Anthem
Future Anthem humanises data with their all-in-one product, Amplifier AI, to personalise the player experience for everyone. Utilising quick-to-deploy modules across the entire player journey, Future Anthem harnesses real-time machine learning to onboard and retain customers responsibly.
Trusted by the world's leading gambling operators and studios – including STS, Betsson, Big Time Gaming, Blueprint Gaming, and Eyecon – Anthem was named Data & AI Partner of the Year at the 2022 EGR B2B Awards and Software Rising Star in 2021. Future Anthem was also selected for the highly coveted Tech Nation Applied AI 3.0 Growth Programme.